My apartment building has been dicking me around since the fourth or fifth month of us living there. Stupid Esquire Real Estate...

Incident #1: HUGE leak in our ceiling, turns a foot square patch brown, curtains are waterstained, etc. Problem is "fixed" after the building manager (not even a maintenance guy) ripped a small hole in the ceiling so it will dry out and not mold.

This hole stays there for the next seven months while the apartment manager ignores our repeated requests to patch it up.

Incident #2: New management company comes to check out the suites in our building because they are considering buying it. They give us 24 hour notice of viewing, everything is cool. We leave for work, both arriving home at about midnight. The door to our apartment? WAS WIDE OPEN! For approximately 7 hours, if you assume they showed up between two and five like the notice said. Nothing was stolen, thank god, but they got an earful from us about it.

Property is sold to Main Street Equity.

Incident #3: Good old Mr. Leak is back and better than ever. My carpet is soaked, and because it's falling right on the weirdly shaped pipes near the window, I can't even put a pan under it. My curtains on one side are almost completely covered in big oval waterstains. Sexy. So I call new management, and they send a maintenance guy the next morning. One point for new management. The maintenance guy ripped an even bigger hole in the ceiling and says the problem is not a pipe, as we suspected, but the foundation. So whenever it rains, the balcony above us pours water into our apartment. He doesn't actually fix this problem by say, going upstairs and repairing the foundation; five days later water is flowing onto the carpet AGAIN.

You can see the picture (and the rest of the story) .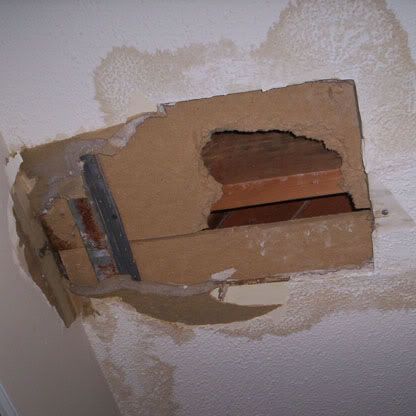 So we gave our notice, found a beautiful high rise where they actually renovate between the one year leases you sign there, and we're moving at the end of the month.

Except our final rent cheque hasn't been cashed and it's the 14th. Our notice hasn't been acknowledged either. When I called the real estate group they said that they were "really behind" because summer is busy, so be patient.

Yeah, be patient while they hang on to our rent INDEFINITELY. The lesson is, if you live in Edmonton, never rent from either Esquire Real Estate Group or Main Street Equity. They're both determined to be slumlords by letting their buildings deteriorate...

(cross posted to edmonton.)