This happened back in 2008, but it's stuck with me. I love cats, and I've had a minimum of one cat (usually more) since I was 3 years old. In 2008 I had just adopted two kittens. They were brother (Lyre) and sister (Lyric). This was the first time I'd had cats when not living with my mom and dad. Anyway, everything went great for two weeks. Then one night around 10:00 pm I heard a crash, and Lyre wouldn't stop crying. He also wouldn't put any weight on one hind leg. I was facing the other way, and to this day I have no idea exactly what happened. Best guess, he fell off the dining room table and landed wrong. I freaked out and burst into tears, but I was still thinking clearly enough to look up an emergency vet on the internet. (I was new in the area, so I didn't know where to find one.) I put Lyre in his carrier and took him to the vet. On my way a friend called on the phone and calmed me down so I didn't arrive in tears. I filled out some papers and they examined Lyre and took x-rays.

After examining him a woman came out with the x-rays. Before she showed them to me she asked questions about where I was and what I was doing when Lyre had his accident. She also kept glaring at me. Finally she showed me the x-ray. Lyre had a broken leg at a growth plate. This caused me to burst into tears again. The woman looked at me, still glaring, and said in a flat voice, "Yes, it is upsetting." Her tone and whole attitude implied that she wanted to say, "It's upsetting, but it's your own fault." I have no idea why she seemed to think it was my fault Lyre was hurt. Maybe I should have been watching him more closely, but as soon as I knew there was a problem I rushed him to the emergency vet! It just really rubbed me the wrong way. You don't imply to a customer who's sobbing about their hurt pet that it's their fault. A smile might have helped too. (By the way, Lyre haled just fine. His leg sticks out a bit, but I don't think he notices.)

(As a side note my regular vet was AWESOME throughout this! They talked to me on the phone numerous times, calmed my worries, and once stayed open late so I could get some medicine for Lyre.)

As a bonus I added some photos under the cut: Lyre then, Lyre now, and his sister Lyric.



Lyre Then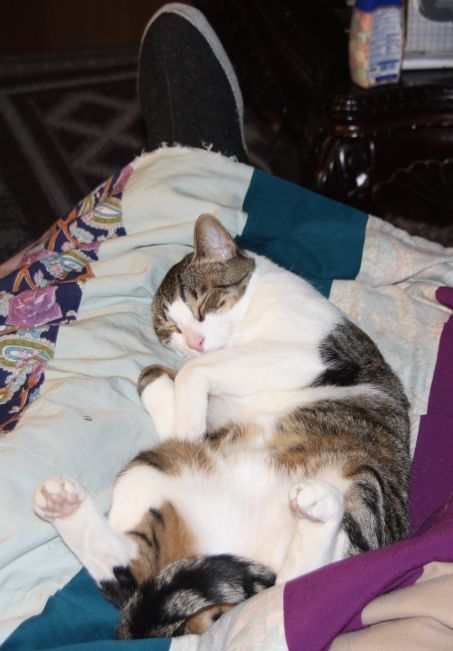 Lyre Now



And Lyric