So, I just would like for some people I don't even know to tell me if I am being unreasonable.

Here is the deal:

At the end of April, I moved from Houston, TX to Buffalo, NY.
I own a 1999 Dodge Ram 2500 which I ONLY use to pull my two horse trailer as it is way too expensive to run as a commuter "car", and a 1995 BMW 325i which I drive 99.9% of the time.

When I moved, I loaded all of my worldly possessions and my two horses in the truck and trailer (literally all, the truck is ginormous and I own no furniture besides a mattress) to drive it all 14 hours per day for two days to Buffalo.

I contracted with a shipping company to have the BMW shipped door-to-door, and pulled out of TX in the truck and trailer on Friday, April 29.

On Tuesday, May 3, as contracted, the shipper picked up the BMW from the ranch where I used to rent a room. They told me it was scheduled to arrive at my place of work on Tuesday, April 10. I was supposed to have a money order ready to pay the driver upon arrival. Fine. I get the money order, lock it in my desk at work, and figure I don't need to worry about it until next Tuesday.

Friday, May 6 the shipper calls me at 6pm and informs me that he will be dropping off the car tomorrow (Sat) at noon.
I am like, "Wait just a minute. You guys said it would be at my place of work on Tuesday. I have the money order in my desk at work. It being 6pm on a Friday now, I have already left work, and I will not have access to the money order until Monday. This is not really ok that you are calling me THIS LATE to inform me that you are coming with the car TOMORROW and changing the plan by three days and switching the drop off day from a work day to a weekend."
So I tell the guy if he wants to drop off the car on Saturday that is fine and I will send the money order first thing Monday, or he can drop it off as originally scheduled and the money order will be right there.

He tells me he will drop off the car on Wednesday or Thursday (so the 11th or 12th/ 1 or 2 days later than originally planned.) This is fine with me.

Well, Monday - Friday goes by and I hear nothing from this shipper. Nothing at all.
Late on Saturday (the 14th now) I get a voicemail saying nothing other than it is the shipper, please call him back, but I didn't realize I had a message until late Sunday (too late to call back immediately).

So Monday morning (16th) at 9:00 I call and say, "Hi, I'm returning your call, please call me back at your convenience." No response.

Tuesday morning (17th) at 9:00 I call and say, "Hi, this is the second time I'm returning your call. Please call me back at your convenience." No response.

Wednesday (18th) I call again and say, "Hi, this is the third time I'm returning your call. Please call me at your convenience."
That evening (6:15, 6:30ish) the shipper calls back.
He tells me he has lost the key to the BMW. Which, for the record, is the ONLY key I have (well now had) to this car. In case anyone is wondering, even though this key is from the era of "Don't Go Chasin' Waterfalls" and "Ace Ventura 2," it has some sort of special chip in it that you have to get it made specially from the dealer. This is why I couldn't get extras made in advance at WalMart when I tried.
So the shipper tells me he is going to go to the dealer to check it out, and tells me maybe I will need to fax him my title, license and registration so that the dealership will cut the key.


I go home that night, dig through my moving crap, find the title (which any normal person would of course have packed at the very front of all of their worldly possessions...not), and take it to work with me on Thursday (the 19th) so I will have it ready to fax to him, if required, when he calls.
I also send an email at 9:20 Thursday morning to the shipping company thusly:
Hi John
The driver bringing my car from TX to NY (who still has the car going on 3 weeks later) has called me to say that he has lost the key to the car and needs to go to the dealership with the car to get a new one made.
He has requested that I provide the registration or a copy of the title because apparently the dealership won't make a new key without it.
I just wanted to check in to make sure this is a legitimate situation and that I am not sending a copy of my title off to whomever calls on the phone and asks for it.
Is this how these situations are usually handled or should I fax the title to whatever BMW dealership he says directly or how do I do this?
Thanks,
Cxx
I get no response from the shipping company on Thursday.
I hear nothing from the driver on Thursday.

Friday (the 20th) I still get no response from either of them.
So at 1:20pm Friday I send an email basically detailing the timeline up to now and finishing:
As of now, Friday afternoon on May 20, roughly three weeks after the car was picked up and over a week after it was supposed to have been delivered, I have no car, haven't heard from the driver since he told me on Wednesday he lost the key, and haven't heard from John since I emailed him at start of business yesterday.
Could somebody please relay to me the following information:
1.) Where my car is now.
2.) What is going on with the key.
3.) When the new key is estimated to be completed.
4.) When I can expect my car to be delivered.
Thank you,
Cxx

An hour or so later someone from the shipping company calls back.
She tells me yes, I need to send a copy of the title and of my drivers license so he can get the key cut, and gives me a fax number to send it all to the shipper (up to now, remember, he has not communicated any actual PLACE TO SEND the title he asked for) and to fax a back-up copy to her. They tell me if I do this the car can probably be delivered by Wednesday (the 25th).
I promptly fax.

I hear nothing again until Tuesday afternoon (the 24th), when the shipper calls.
He tells me that because my driver's license is from NJ, and the title is under my same name but a TX address, BMW will not cut the key. The address has to match. (Btw, I lived in TX for a year and 5 months and moved 3 times during that period. No, I did not re-title my cars or get a new driver's license each time. PEOPLE MOVE.)

I am like, "Well, what am I supposed to do, get a whole new driver's license for this? Wait until the car is re-titled in NY and I have switched my driver's license to NY until I can see my car again????"

He is like, "Well, you need to call the dealership because they are not going to cut you a key."



So I promptly call the closest BMW dealership.
I explain the deal.
They tell me to fax over my stuff, but it is BMW policy the address has to match.
They ask me if I have the original bill of sale for the car. Yeah totes. Surely everyone with a '95 will keep that handy always.

So I call the used car dealer in Humble, TX, where I bought this car.
They fax over my original bill of sale (with my TX address and my signature on it).

I in turn fax to the BMW dealership
-my TX title
-my NJ driver's license (complete with signature printed on it)
-my passport (complete with signature)
-the original bill of sale (signature and address matching TX title address)

I leave a little note saying if this identifying information is acceptable please contact shipper directly to arrange payment for the key order at the following number (xxx) xxx xxxx. I leave my number as well in case there is a problem.
I hear nothing from the BMW dealership or the shipper the rest of the day.
Thus it stands at the end of Tuesday the 24th.

Today (Wednesday the 25th), the shipper, in an unusual spurt of proactive communication, calls me and is like, "So what is the deal with the car?"
I am like, "Did the BMW dealership not call you?"
He is like, "No."
I am like, "I faxed them every piece of ID I have yesterday, what in God's name."
He is like, "Well maybe you need to call them."

So I call the BMW dealership again.
They tell me the deal with the address not matching.
I am like, "Surely this can not be the policy. I mean, people reside and have their driver's licenses in one state and then have vacation houses with cars in another state all the time.* Surely you have some sort of policy for when these people need keys?"
*note: not my situation, I don't own more than a mattress and rent a room in a house month to month but this was a handier example than explaining that PEOPLE MOVE.

They are like, "Well, you need to call Customer Relations."


So I call BMW Customer Relations.
They explain to me about the address again.
I am like, "So someone with a BMW at their vacation home has to get a new driver's license or the car re-titled if they want a new key made? You are surely not telling me the whole story."
They explain to me about the address.
Vacation home.
Address.
Vacation home.
Address.
VACATION. HOME.

Then the man offers to take my number and pass it along to the Executive Offices.
He says he can't guarantee they will call back but he will pass my number a long.

I am like, "Let me see if I understand. I have a car on a truck somewhere with no key. You are telling me, 'Don't call us, we'll call you' and telling me that I should just kick back and wait for a phone call that may or may not come."
He is like, "Well I can definitely take your number and pass it along."
I am like, "...That answer is simply not acceptable."

I ask him to transfer me to the Executive Offices directly.
He tells me he'll take my number.
I am like, "No, I want to speak to a person, not wait for some 'maybe' phonecall."
He'll take my number.
I am like, "You are not understanding that my car is on a truck somewhere with no key and I will not get off this phone until I speak to someone."
Finally he gives me the number for the Executive Offices of BMW North America.

So I call the Executive Offices of BMW North America.
I speak to a woman who says she will look into it and call me back later today.
She calls back later and tells me that yes, my ID information will be sufficient, and she is going to call the dealership near my work and release them to cut the key.
HALLELUIA.

Now the car is going to get dropped off and the key cut Thursday or Friday (as in tomorrow or the next day, allegedly.)
HALLELUIA.


My question for the internet is:
When the shipper comes and drops off this car, he is going to want some sort of payment. The initial payment was supposed to be $200 to the shipping company (already paid) and then a $695 money order to the driver when he delivers.
What does everyone think should be a reasonable amount for the money order to be NOW, considering the above?

The shipping company is saying, "Well we had the car ready on the 6th but you wouldn't accept it."
and I am saying
a.) As a door-to-door shipper it is still your responsibility to drop the car off at a mutually agreeable time, it was initially scheduled for Tuesday the 10th, and the original delay caused by my "refusal" to accept delivery when you called me on the shortest possible notice to change the plan from a workday to a weekend was going to be only one or two days

b.) this still does not make losing the key ok

c.) this still does not make the extremely slow and sporadic communication regarding the key ok.
For Pete's sake, the called about the key after COB on Wednesday the 18th the (or did he already know on Saturday the 14th when he first called and left a message but didn't answer my repeated return calls until Weds?) And I did not get a number to fax my ID documents to from anyone until Friday the 20th, and then no news that there is an address problem until Tuesday the 24th, and then no actual agreement from BMW that the key can even be made until the 25th, and delivery of the car on the 26th or 27th.
Since they DEFINITELY knew the key was lost on the 18th is there some reason that this could not all have been figured out on the 19th????

Meanwhile, I have been driving a truck that costs $110 a week to run instead of a car that costs $50 a week to run this whole month.
I have paid comprehensive insurance for a month on a car I have not seen.
I have spent roughly three hours of time during business hours, when I am supposed to be billing for my work, fixing this through phone, fax and plentiful tearing of hair.


So, when/if this car finally gets delivered, what does everyone think would be fair for me to pay the man?


In other news, here are pics of the car in its fabulous '95ness.
I figure by now if you have gotten this far you may as well see it and if anyone recognizes it driving by on a truck feel free to comment to me which State it is currently in.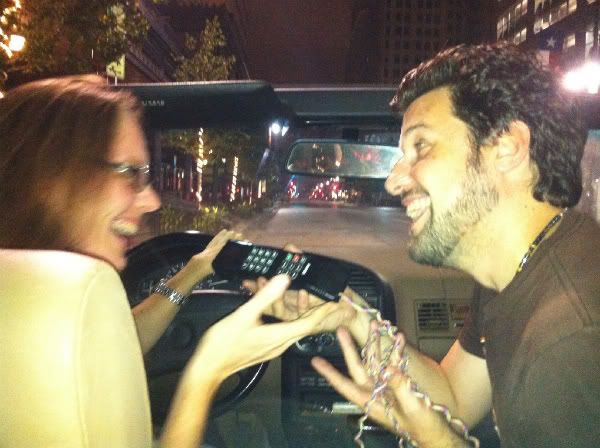 Adam tried to hand over the phone but became ensnared.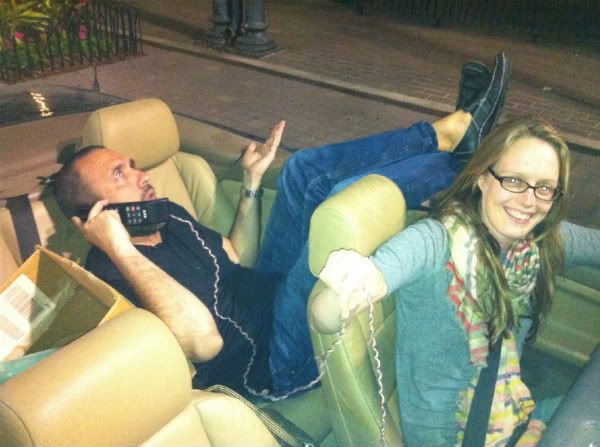 Sunjay's call was so important he had to wear loafers for this.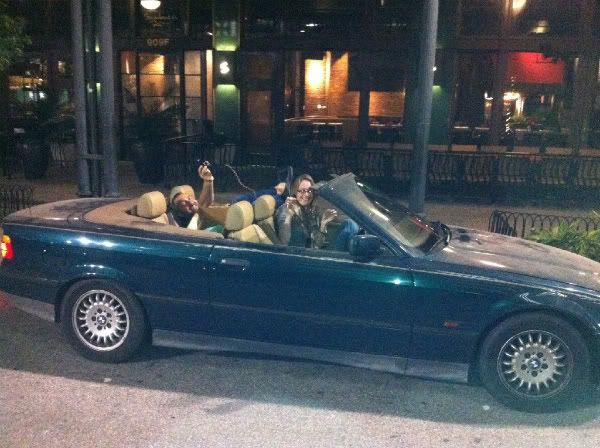 The last time this car was washed was 1995.

For all who got this far, I salute you.

Thanks!